Creative Space
In the current real estate, creative space is a trending term with many definitions. Creative space is a type of co-working office space. The type of space is popular among many startups, design, freelancers, and micro businesses. This allows the space and layout to collaborate and create more seamlessly together.
A creative office space is an approach to enhance creativity while considering the emotional, mental, and physical elements. To nourish creativity, a traditional office may hinder the overall creative environment. Companies are learning to create for themselves the environment best for their work to flourish. A creative space can nurture, inspire, and foster the best creative work.
Different Types of Creative Spaces
Multi-use Space | Visual Art Studio| Co-Working | Office Space| Hot Desk | Makerspace | Manufacturing/Fabrication Space | Design Studio | Hackerspace | Warehouse | Dance Studio | Gallery | Live+Work Space | Community Hall | Photography Studio | Film Location | Film Editing Suite | Retail Space | Pop-up Shop | Rehearsal Space | Music Rehearsal Space | Theatre/Performance | Non Traditional | Music Performance Venue | Residency | Sound Recording | Cinema |
What Makes a Space Creative?
A creative office space is an approach to enhance creativity while considering the emotional, mental, and physical elements. To nourish creativity, a traditional office may hinder the overall creative environment. Companies are learning to create for themselves the environment best for their work to flourish. A creative space can nurture, inspire, and foster the best creative work.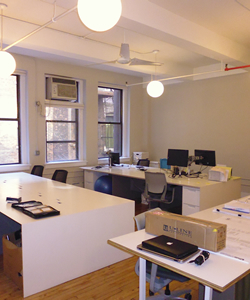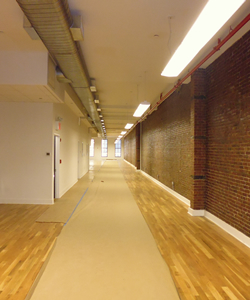 Creative Space Definitions
Multi-use Space
This type of space is more flexible and lends itself to many creative uses. Non-traditional spaces, like warehouse or converted spaces, are commonly multi-use spaces.
---
Visual Art Studio
As its namesake, this space is used mostly for visual arts. Many converted spaces, such as warehouses, industrial buildings, and factories, tend to attract the visual art companies. Many studios have a space for artist to license.
---
Co-Working Space
A co-working space more closely resembles an office. Co-working is in contrast to the traditional office because the space is used by many people not all employed by the same company. Although there may be a common interest, art, or work idea. Creativity is the connecting idea through the space. Furniture is usually provided in the space to people.
---
Office Space
An office space can inhabit any space with the right furniture. The space is typically where desk and chairs are set-up and offer per square foot. Albeit more traditional, the space must still contain creativity at the core.
---
Hot Desk
This type of space is where a desk and chair are arranged and available in shifts. The desk and chair are shared among the various people at different times. The agreements or contract are determined by the management and may have rules set forth.
---
Makerspace
This is a more hands-on space. Individuals and companies can use the space to create, share experience and tools. While the focus may not be on technology, some may be present. The spotlight is on handmade designs and creations.
---
Manufacturing / Fabrication Space
These spaces focus on manual labor either by producing goods or wares. A factory or warehouse are included in this category.
---
Design Studio
This space is favored by designers (interior, fashion, or graphic) and architects. The space is designed to a high standards and features a prominent aesthetic. Many design spaces include furniture with high design.
---
Hackerspace
Unlike a makerspace, this is a hands-on space focused on technology. The space can be used for individuals and companies to share equipment, experience, and knowledge. A hackerspace foster community for people working with printing, science, digital and electronic art. This space is focused on collaboration and socialization.
---
Warehouse
A warehouse is a building that once had many purposes. Storage, industrial, or manufacturing purposes are common with warehouses. The layout of a warehouse is typically open spaces with little design and high ceilings.
---
Dance Studio
The studio is perfect for many styles of dance. With bright lighting, mirrors, sprung floors, and ballet barres are outfitted throughout the space.
---
Gallery
A gallery is perfect for presenting hanging art work, sculpture, or performance art. The equipment included in the space is to assist in exhibiting the art work. Lighting, white walls, partitions, and hanging systems are outfitted throughout the gallery to better feature art.
---
Live+Work Space
This space is popular among artist and other creative people. The live/work space is cost-effective to live and work in the same place. The spaces are designed to function as a studio and residence.
---
Community Hall
The large open space serves many functions. The space typically features a stage or performance area. A community hall can be found in church halls, bowling clubs, or community theatres.
---
Photography Studio
Photography studio is created to cater and function for photographers. Lighting, cycloramas, dark rooms, and a display area are general features in a photography studios.
---
Film Location
A space suited to filming or film production
---
Film Editing Suite
Equipment used for film editing is the main feature of this space. Another feature is temperature control which is important for keeping film from being damaged.
---
Retail Space
This space is used for retail interests. The space is designed and set-up to highlight retail. Typically located in common retail areas.
---
Pop-up Shop
A pop-up shop is a practice of a temporary retail boutique or presentation. Display shelves, lighting, and furniture are included to benefit the temporary status.
---
Rehearsal Space
The space is used for theatre, performance, and/or music rehearsal. Sound equipment and lighting are sometimes included in the space. Audience facilities are not always included.
---
Music Rehearsal Space
This rehearsal space is directed at musical performances. Noise is expected in a space like this and definitely designed accordingly. Sound insulation and other equipment is put in place to buffer any noise complaints.
---
Theatre/Performance
This space is designed to feature performances usually in serve of an audience. Certain facilities are in the space to support the performance such as, a stage, lighting, sound equipment, and audience seating.
---
Non Traditional
This space is more inventive and atypical that other spaces. Non-traditional spaces are more adaptive and use every square foot in interesting ways.
---
Music Performance Venue
This space is designed for performances of music artist in service of an audience. A music venue needs a sound equipment, stages, lighting, and an audience area. This venue is responsible for expected noise control.
---
Residency
This space is specifically referring to an artist space. This space is for a specific amount of time for an artist residency. The space is offered for little or no charge. Funding is often given to successful applicants to enable to use the space.
---
Sound Recording
This space is very specific to sound recording. Equipment for sound recording is included in the space. Sound mixing, microphones, and computers are important aspects to sound recording needed in the space. The space is responsible for any sound-proofing.
---
Cinema
The audience accessible space is for screening films. Projection and cinema screens are included in this space for screening.
Summary
Creative commercial space can found through New York City and service many different creative needs. From open loft space or gallery with generous column spacing. If you are unsure of your space requirements, we can guide you through your creative office search. With access to most floor plan in Manhattan, we can match you to the right space...


Option #1
Broker Assisted
Office Space Search
Office Space Amenities / Features:
ADA Access
Attended Lobby
Balcony
Boutique Buildings
Breakout Rooms
Brick Walls
Bullpen
Carpeting
Close to all Transportation
Coffee Lounge
Concierge Service
Conference Room
Copy Room
Creative Space
Direct Elevator Access onto the Floor
Drop Ceilings
Efficient Layout
Exposed Beamed Ceilings
Exposed Ducts
Flexible Leasing Terms
Freight Elevators
Full Floor Office
Furniture & Phones
Glass Accents
Glass Fronts
Guest Seating Area
High Quality Finishes
High Speed Elevators
I.T. Closet
I.T. Room
Loft Layout
Mail Room
Move-in Condition
Onsite Management
Open Layout
Operable Windows
Oversized Windows
Pantry
Penthouse Office
Polished Hardwood Floors
Pre-wired for Voice & Data
Private Offices
Private Restrooms
Raw Space
Reception
Remodeled
Renovated
Roof Deck
Secure Keypad Entry
Skylight
Split AC
Stainless Steel Appliances
Storage Room
Sunlit Exposure
Supplemental AC
Tenant Controlled HVAC
Terrace
Turn-Key
Water Column Access
Whitebox
Services We Provide:
Architectural Coordination & Design
Architectural Requirments
Construction Supervision
Drafting Offers & Counter Proposals
Expansion of Space
Floor Layouts & Design
Landlord Concessions
Lease Exopirations
Lease Extentions
Lease Renewals
Leasing Space
Legal Consultation
Listing your Property for Sale
Listing your Space for Lease
Moving Details
Negoitate Lease Terms; escalations, rental rates, and utilities
Negoitate Rentals Rates / Increases
Office Space Touring
Real Estate Investment Advisement
Real Estate Tours
Satellite Offices
Tax Analysis

RELATED LINKS
- XYZ