Featured Space - Condo Offices
Flatiron Commercial Loft for Sale | 21st Street
4100 SF. Loft Office Coop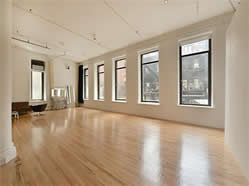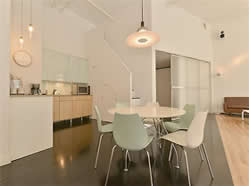 Newly listed on the market; there is an available commercial loft for sale in the Flatiron area on 21st Street. This commercial co-op offers you all the features expected of a professional Manhattan loft. The ceilings stand over 14 feet adorned by both pendant and recess lighting throughout. Newly installed plank white oak wooden floors add to that loft form factor. This space is serviced by direct elevator entry that opens on to the loft. As depicted – the loft is configured into two wings – the south facing portion (pictured) was a photography studio while the north side was configured into offices. Both sections can be combined to create a seamless work environment all on a full floor. The loft contains three columns throughout the entire space; you will come across no other obstacles giving you all the flexibility needed to match a peerless imagination!
In total, the loft possess a full floor presence that is benefitted by exposure to both a north and south facing, in addition the loft features massive wood framed tilt & turn windows facing 21st street – while the southern exposure enjoys light from large operable double-hung windows with a clear blue sky vista! The loft herein stands within a 9 Story Pre-War Mixed-Use Co-op Building in the Flatiron District on a tree-lined street, between Park Avenue South and Broadway. Each unit is serviced by Video Conferencing and has keyed-elevator access ensuring your security and privacy! The building contains a and a marble lobby and stands on a great chic block – the #1 area for restaurants/cuisine.
In all, this is a wonderful full-floor loft that is ideally located between Madison Square and Washington Square, minutes from The Ladies Mile District. With a plethora of oversized windows with original wood detailing reveals stunning, open city views and floods the space with sun.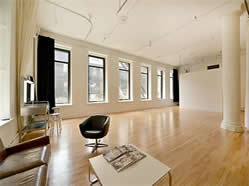 Available to view at your earliest convenience.
Access by Appointment Only
Purchase Details

Type:
Price:
Size:
Ownership:
Financing:
Maintenance:
Tax Deductibility:

Loft
$4,300,000
4,100 SF.
Co-op
80%
$5,368.00
49%

Key Features:
- Great Address in the Heart of the Flatiron District.
- Classic Loft Form Factor (14' Ceilings / Wood Floors)
- Full Floor Presence, passenger elevator opens directly into the Loft.
- Open Work Area / Kitchen
- 2 Bathrooms(1 with Bathroom)
- Excellent North/South Windows + Light
- Central HVAC (South Portion of Space)
- Nearby Paid Parking Available / next door stands a Hourly Parking Lot

Call or Click Today - Tour Tomorrow ™


Request:
For More Infomation on
this Space Contact Us