Featured Space - Condo Offices
Soho Live Work Loft | Broadway - Call / 3000 SF.
3000 SF. Commercial Duplex for Sale in Manhattan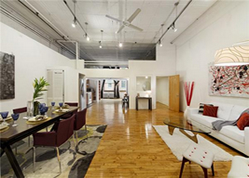 New to market today, approx. 3,000 SF. of duplex Live Work Loft Space on Broadway itself, south of Houston. This top quality space is move-in ready and able to accommodate a range of professional needs. The loft has been updated and built-out to the highest of standards, ensuring recoupable value and appreciating yielding gains.
The unit stands within a traditional Soho Cast Iron Building that has been Landmarked by the city having been built circa 1880, otherwise the property was fully renovated back in 1985 which included capital improvements and overall updating to the building and its systems. Moreover in 1978 the property was converted to Coops and today is 100% sold.  The Work Live Unit on offer is accessible by direct keyed elevator access; 24/7 access is guaranteed. Upon first entry one is met by copious amounts of light pouring through eleven foot windows which enjoy an Eastern exposure – thusly offering more light at the beginning of the day – great for early starters who seize the day, daily…
Tall rising thirteen and a half foot exposed beamed ceilings with attractive lighting loom over original maple beam floors.
At the entrance the space has been outfit with a galley kitchen that leads to an open space that can be configured into a bull pen or collaborative team space. A spacious mezzanine allows room for relaxing and sleeping. The kitchen has been appointed recently with quality appliances; most notably both an LG refrigerator & LG vented washer / dryer. Furthermore the loft contains two private windowed offices with enough space for your desk, chair, filing cabinet and seating for guests; giving you the space needed for confidential discussions and the tackle work that requires a lot of concentrate.
Any and all of which is supplemented by high powered air conditioning and ample storage.
By the rear courtyard vantage – the loft provides a sanctum from the hustle and bustle of city life. At this portion of the unit – the windows face westward offering great sunlit afternoon exposures. In the mezzanine mentioned above stands an addition private windowed office. Storage is available throughout the loft in the form of custom wood cabinetry, an expansive walk-in closet, and by the room offered in the mezzanine, giving you abundant options by clever design.
For those of a truly artistic bent, the loft herein also contains an additional storage room with matching thirteen and a half foot high ceilings plus with the inclusion of another mezzanine within this portion of the space – a great place for your works in whatever form they may take!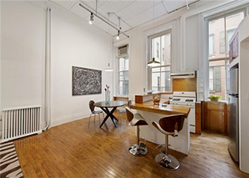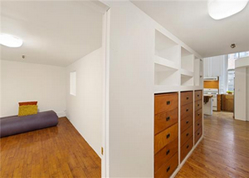 The property itself as a whole was originally built in 1884 and served as a store and storage facility for the estate of D.H. Haight; occupying the space that once played host to the most lavish hotel in the world.
Previously the Saint Nicholas Hotel resided at the site circa 1853, created at that bygone era when this area of the city was a trendy theatre and shopping quarter. That renowned property once could accommodate up to 1,000 guests, with accents and features such as the marble-fronted entry – this building was the first of its kind coasting $1 million in construction, helping to cement a new customary class of distinction – overshadowing the Astor House as the chief hotel in New York.
Today this classic Queen-Anne six-floor block-through building has been adapted to residential co-operative use as of 1978, and as such stands as the biggest co-op building in Soho Manhattan, the property contains 19 residential homes and 7 commercial spaces within…
Available to view at your earliest convenience.

Available Sizes:
3,000 SF - Asking $3,580,000
Maintenance/CC: Call Us for Details
Monthly real estate tax: Call Us for Details 
Key Features:
- Prestigious Broadway Address
- 7 Room Loft Space Including;
- 3 Bedrooms (can be converted into Offices)
- 2 Full Bathrooms
- Class B Landmark Building
- High end built Installation / Orinigal Details
- Move-in Ready
- Loft Form Factor (High Exposed Ceilings, Hardwood Floors, Oversized Windows)
- Intercom System
- Keyed Elevator Access (24/7)
- Separate Freight Elevator
- Heat provided by Co-op; Electricity/Gas paid for by Tenant/Owner
- Local Subway Access; N/R at Prince Street (0.1 miles), 6 at Spring Street (0.2 miles), B, D, F, M at Broadway-Lafayette (0.2. miles), J, N, Q, R, Z, 6 at Canal Street (0.3 miles), the C & E at Spring Street (0.3 miles), the A, C, and E at Canal (0.3. miles), and the 1 Train at Canal (0.3. miles).


Call or Click Today - Tour Tomorrow ™


Request:
For More Infomation on
this Space Contact Us