Featured Space - Condo Offices
Bryant Park Office Condo for Sale | 40th Street - x10 Condos
Ten Condo Offices for Sale in Manhattan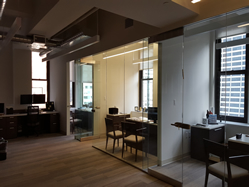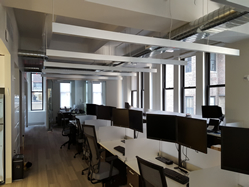 New to the market - today in Midtown Manhattan there stands a number of commercial condo units ready for purchase near Bryant Park. These units come in a variety of sizes by which each offers different options in terms of size, exposure, and layout. These can be delivered raw - at the moment each has been built out to the specifications of the previous owner - of all of which were used for business office use. We found that on our initial tour herein - the condo offices all contains the following features throughout; open work area / bullpens, conference rooms, pantries (wet column access), private bathrooms, and private perimeter offices with glass fronts.
Flexible office layouts proliferate throughout the building, some with partitions while others were configured into huge creatively built spaces.
Additionally - the condos all feature large windows for plentiful light, while the building property itself includes central A/C , modernized elevators, freight elevator access, with 24/7 building access and beautiful attended lobby. These condos would provide great spaces for any existing law firm, financial, architect, PR companies. Great Opportunity to purchase to be delivered vacant you can't beat this amazing opportunity with convenient access to subways and mass transit at Grand Central Station just moments away. Call to schedule a tour today!

This vibrant neighborhood offers a range of cafes & restaurants all of which is located near a good range if public transportation options; the 5th Avenue (7, 7X), 42nd Street - Bryant Park (B, D, F, M) and at Grand Central - 42nd Street (S).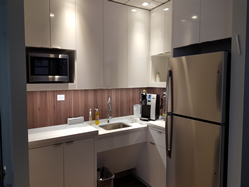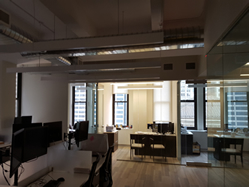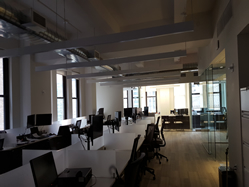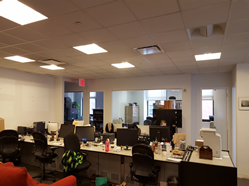 Availabilitie Sizes:
1st Floor          .3800 SF. $1700 psf - Direct - Arranged
Mezzanine       .4200 SF. $1700 psf - Direct - Arranged
2ND Floor        5579 SF. $1700 psf - Direct - Vacant
4TH Floor         5579 SF. $1600 psf - Direct - 9/20/16
5TH Floor         5579 SF. $1600 psf - Direct - Vacant
6TH Floor         5314 SF. $1600 psf - Direct - Vacant
11TH Floor       4907 SF. $1800 psf - TBD - Direct - 7/20/17
12TH Floor       4470 SF. $1800 psf - TBD - Direct - 10/20/17
14TH Floor       4470 SF. $1800 psf - TBD - Direct - Vacant
15TH Floor       4470 SF. $1800 psf - TBD - Direct - Vacant
Key Features:
- White Box / RAW / Some Prebuilt
- New Operable Windows
- Tenant Controlled HVAC
- South and East facing windowed Office Space with Southern views
- Very Well Maintained Building
- Lobby is Fully Renovated
- The Landlord Shall Provide NBI
- Named Listing in the Lobby
- Building's Amenities include Freight Elevator
- High-rise Building with a Fine Food Market Place on the Ground Floor
- Prime Midtown Location between 5th and 6th Avenues - Midtown West location near Bryant Park
- Romanesque styling by the architects Buchman & Kahn
- 17-story High-rise built in 1926
- Conveniently near Grand Central: MTA Transit Hub; 4, 5, 6, N, R, Q, L.

Call or Click Today - Tour Tomorrow


Request:
For More Infomation on
this Space Contact Us