Featured Space - Office Sublets
Penn Station Sublet Office | Sixth Avenue - $50 / 2800 SF
Penn Station Private Offices for Rent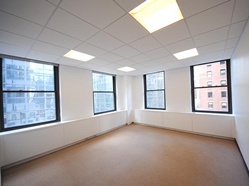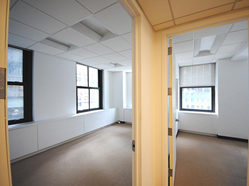 Three new private offices are now up for rent within a full-floor space occupied by a strong lessor who has 6 more years remaining on their lease. This commercial sublet is located on 6th avenue and 33rd - right accross the street from Madison Square Garden / Penn Station Terminal! This office contains 2800 SF. of space which has been broken down into primary into three private windowed offices and an adjoining open work area. The first portion of the space overlooks the front of the building – this portion of the space stands is divided into 2 private offices - one of which is a corner unit. The next private office is similar but slightly smaller and stands at the side to rear portion of the building – which is good for those who like less noise and indirect expose.
Additionally these offices will be delivered with new carpets and fresh paint; and at request all can be outfitted with furniture & phones helping to ensure you keep momentum!
Both offices enjoy high exposed beamed ceilings which are accentuated by modern new lighting giving you a bright clean environment in which to work. Moreover the remaining space features a wet pantry (coffee machine, microwave, and fridge) and a common work area which runs through a small portion of the sublet  – as seen in the photos below.

In total this listing provides any profession all the nuts and bolts needed with the least amount of fuss and setup!
Available Sizes:
2800 SF.
Term:
2 to 6 Years
The Penn Station area is perfect for you New York office due to its premier location. The location is perfect due to its amazing public transportation, steps from the A, C, and E subway lines, and the great restaurants, shops, and youthful energy in the area.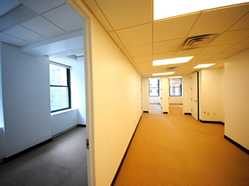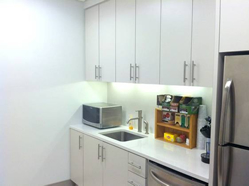 Key Features:
- x2 Private Windowed Offices (one at the front the other at the rear of the building)
- An Open Work Area (able to accommodate 6 to 8 desks)
- Turn Key Space (Wired + Phone & Furntiure Available)
- Operable Windows throughout the Office
- Small Pantry (Water Column Access)
- New Renovation (new carpets, fresh paint, new lighting, new windows)
- All Utilities Included
- Wired for Internet (The Building is serviced by Spectrum and Megapath)
- Staffed Building Lobby
- 24/7 Hour Elevator Access
- Secure Keypad and Identification Entry
- Minutes walking to Penn Station Subway hub; A, C, E.

Call or Click Today - Tour Tomorrow™


Request:
For More Infomation on
this Space Contact Us