Featured Space - Direct Office Space
Columbus Circle Office for Lease | 54th Street - $55 / 3500 SF.
3500 SF. Direct Lease with a Term of 5 to 10 Years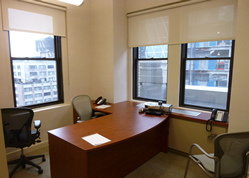 High-end pre-built office located near Columbus Circle and Central Park South off of 54th Street. The following office comes with 1 to 7 Private Offices and a Bullpen area which can accommodate 1 to 4 people. This corner office enjoys windows on three sides offering both great exposure and high vantage views of the surrounding neighborhood.

This office has been recently renovated with a full floor installation. Lease the entire 15th floor or sublease just a portion of the space as follows; 1000 - 2500 SF. which comes to 1 - 5 Offices, 1 to 2 Workstations, and a Shared Conference Room.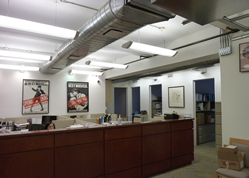 Available Sizes
3,500 SF

Lease Term: 5 to 10 Years

Key Features:
- Up to 7 Private Offices (Partner Sized)
- 1 to 4 Workstations (Bullpen)
- Shared Conference Room (If not taking the whole floor)
- Lease the Entire Floor Plate
- High-end Build Out
- Exposed Ductwork
- New Lights & Fixtures
- Terrific views with Floor to Ceiling high Windows
- 24/7 Access with an Attended Lobby
- Newly Renovated Lobby
- Parking Available
- Great location near Central Park South (West)

Call or Click Today - Tour Tomorrow ™



Request:
For More Infomation on
this Space Contact Us