Grand Central Office Space
Office Space > US > New York > New York City > Grand Central > Office Space
• Lease, Sublease, Purchase - Listings / Brokers - Commercial Space, Office, Loft, Medical, Live / Work
Grand Central Office Space for Rent, Sublease, and Sale; view prices, floor plans, photos, and more - for available commercial real estate in Midtown Manhattan Call or Click TODAY - Tour Tomorrow.
Begin to search for Grand Central office space at NewYorkOffices.com, we offer dozens of commercial properties for lease and purchase in Grand Central greater than +1,000 Square Feet!
Neighborhood Location: 54th to 38th Street, Fifth to Third Avenues

Zip Code: 10016, 10017, 10170, 10174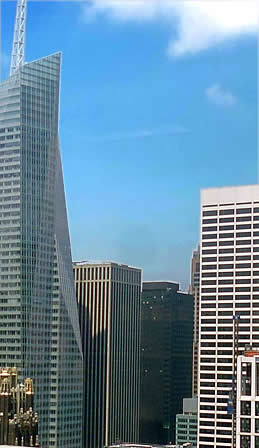 Grand Central in Midtown Manhattan contains one of the greatest concentrations of Class A Commercial Buildings in the World – being unrivaled in both transport and convenience. This neighborhood formed around the Terminal with its influence extending over Park Avenue north into the Plaza District; one of the most prominent corporate locations in New York City! This area has played host to Manhattan's business community since the landmarks were built like the Chrysler Building in the early 20th century, from that point onward many companies have relocated from downtown Manhattan.
The Grand Central area serves today as both a transportation hub and a landmark destination with many world renown properties and organizations nearby including; the Chrysler building, the Chanin as well as the Graybar Building and Metlife Buildings. This neighborhood is serviced by many trains such as; the MetroNorth, MTA 4, 5, and 6 Trains plus the Shuttle to Times Square.
Traditionally the area has housed Fortune 500 Companies, additionally many Accounting & Law Firms to Banks & Financial Service Firms call this district home. Moreover, the area holds a remarkable range of top notch quality goods and services which include both independent and national retailers alike. This combination of factors (image, convenience, and facility) help make this one of the most prestigious commercial settings in Manhattan.

Grand Central Office Space for Lease and Sale

• Fill out a Broker Assistance Form and receive a "Space Report" detailing all the commercial property availabilities in Grand Central. SERVICED SEARCH

• Go to our Real Estate Database and research / browse over 400 million square feet of available office space in Manhattan. DATABASE SEARCH

• View our Featured Spaces in Grand Central BELOW; each space / property has been culled and collected herein for their uncommon value and prestidge. OFFICE LISTINGS
Featured Spaces: Grand Central Office Space

East 42nd Street Office for Lease | Between 3rd & Lexington 1,370 SF. / $59 per SF.


This Landmark Building office rental is in excellent condition only needing paint and carpet. Exceptional opportunity for a small commercial tenant who needs to be in a prestigious building along with an impressive address. The space is currently divided into two areas (2 windowed offices and open space), but the landlord will build to suit for a 5 year term. This is a full service class A building. The halls and bathrooms are undergoing a complete renovation. The beautiful landmark class A building has a restored art deco lobby, concierge, 24/7 access, new elevators, freight access and it is located very close to Grand Central.

East 42nd Street Office for Lease | Between Lexington & Park 1,990 SF. / $52 per SF.
This new installation move-in condition suite features high ceilings and polished concrete floors. It has sunlight flooding the space with offices and an open area for administrative use. Five minute walk to Grand Central and convenient to all transportation. In short this move-in ready space has 2 offices, a conference room that seats 10, open work area, reception area and central a/c. The class A building has an attended lobby with 2 entrances, 24/7 access, on-site management, several new passenger elevators, a complementary conference room with wifi and a flat-screen and it is located within 1 block of Grand Central.

Lexington Avenue Office for Lease | Between 41st & 42nd Street 2,060 SF. / $49 per SF.

Perfect, small office space near Grand Central for rent. This pristine suite is pre-built with 3 windowed offices, a windowed conference room and an open area for administrative uses - with line of sight between everyone in the office. A drop ceiling and central air conditioning are in place. The beautiful building has a very nice attended lobby, 24/7 access, new passenger elevators, freight access and it is located very close to Grand Central. This space offers some of the most competitive rates in Midtown Manhattan submarket. Take advantage of its great location near major subways and bus lines with many options for food, shopping, and entertainment.

Lexington Avenue Office Space for Lease | Between 39th & 40th 2,220 SF. / $55 per SF.

Corner Office in a Midtown Skyscraper; this built out space features a bright windowed space with unemcumbered views. The entirity of the space includes a Reception Area, 2 Glass-Enclosed Private Offices, an interior core Conference Room & Open Workspace that flows from the center to the perimeter of the office, in aidditon the space comes with a pantry, 3 storage closets and 2 private restrooms. The suite herein is bright enjoying a double exposure from two side in a high floorplate that overlooks the neighborhood. This building is accessable from Grand Central Terminal and enjoys convenient access to all nearby transportation...

Midtown Office Sublet for Rent | 42nd Between Park & Lexington 2,245 SF. /

$62 per SF.



Fantastic high-end prebuilt office space in an efficient combination of offices and open area - an ideal space for trading business. The office is appointed with above standard finishes throughout, pantry (water column) with a sink and cabinets, a nice waiting/reception area, all of which is benefited by spectacular views. Prestigious location.This pre-built space offers a reception area, 4 glass-fronted offices (each with windows), a conference room, a wet pantry and a large open work area for administrative uses. This commercial unit comes with newly carpetted floors and finished ceilings. The classic pre-war building has a beautiful attended lobby, offering 24/7 access (manned lobby) and an entrance to Grand Central via the lobby. A great location on Lexington Avenue, 3 blocks from the 4,5,6 trains at 42th Street.

Third Avenue Sublet Office Rental | 3rd Ave & 42nd Street 2,485 SF. / $50 per SF.

The following commercial unit stands within a top quality Class A Office tower situated on the east side of Manhattan near 42nd Street and 3rd Avenue. The office features an efficient that is a combination of offices and open area - offering 4 windowed offices, six adjacent workstations in an open area, plus room for 2 to 3 more workstations available if needed. The office also contains a conference room (able to seat 6 to 8) and pantry (wet column). Close proximity to Grand central and convenient to all transportation. The space comes fully wired with some furniture, plug & play, otherwise the unit enjoys tenant-controlled central air conditioning and direct electric.

Park Avenue Sublet Office for Rent | 40th Street 2,624 SF. Negotiable

Efficient bright corner space with great sunlit exposure (from 2-sides) from a high floorplate offering views of Midtown Manhattan to the East River. Truly unique. Skyline views.The office itself consists of two open work areas in a newly constructed, bright, open plan, serviced by a private bathroom and wet pantry. The office herein has been configured with three (3) private offices, seven (7) workstations, 1 conference room, and a reception desk. Space measures 2,624 SF. Tenant controlled HVAC and landlord will modify for specific requirements. Cooling is via a tenant controlled package unit. Charming art deco lobby is attended 24/7. Landlord will modify the space for the right tenant. 3-7 lease term. Available for immediate occupancy. Great space for creative or technology user. Convenient to Grand Central Station and all major public transportation.

Grand Central Office Sublet | 42nd Street between Park and Lexington Ave 2,790 SF. /

Call for $$$



This impressive window lined corner unit is convieniently located directly off the elevators. It has amazing light and views because it is on a high floor. This is an amazing space that offers brand new high end finishes throughout within a state of the art environment, all of which is centrally located in a Class A building in the heart of the Grand Central Midtown Manhattan area. Stunning brand new build out with (4) windowed offices, (1) corner executive office, (10) open workstations, (1) conference room and shared pantry & reception.


Grand Central Office Sublet | 42nd Street - Call for $$$ / 2910 SF. 2,910 SF. / $60 SF.

This upscale high-end office featuring new carpet floors and elegant glass finishings throughtout. It is a highly efficient column free space with finished ceilings and lots of natural light - being situated mid-tier within the building property. Brand new high end pre built office space with glass and aluminium fronts. Amazing pantry which doubles as a collaborative working area. This newly built office features (4) windowed offices, (1) windowed conference room, an work open area and finished ceilings. The unit comes with submetered electric and offers tenant controlled HVAC.

Grand Central Loft Office Sublet | 39th Street & Madison Avenue 3,060 SF. /

$62 SF.



Today this unit is under renovation; tomorrow this above standard brand new high-end pre-built office will include the following features; 6 private offices, a conference room, a small open work area, and a designer pantry with stainless steel appliances. The unit enjoys a slab to ceiling height of 13.5 feet, while the office itself stands upon polished concrete load bearing floors. The office herein enjoys a loft form factor that includes exposed beamed ceilings, rounded ductwork, sprinklers, and an open central core rounding out to the perimeter offices - as seen in the listing's photography. Each private office is enclosed by glass and aluminum framing which has been married to full length cedar doors. Each private office contains a finished ceiling and is vented, otherwise the central open core area can accomodate some workstations and a reception desk at your option.
41st Street Office Sublet Rental | Between Park and Lexington Avenue 3,160 SF. /

Negotiable



This unit herein is located in Midtown Manhattan (East) and is flexibly configured for any professional use. This open office plan offers views of Midtown Manhattan through north facing windows. This space includes a formal reception area, kitchenette, mail room, conference room, two restrooms, and two private windowed offices. The office area can accomodate up to ten workstations, and is currently wired for Network/Internet accessible (35-Ports / Switch). In addition this unit features fully controllable air conditioning, and tiled floors. The space is ready for immediate occupancy, close proximity to Grand Central Station, terms negotiable...
Midtown Manhattan Sublet Office Rental | 44th Street & Madison Ave 3,975 SF. /

$60 SF.



Located in the heart of Midtown, this office space has excellent light and high end finishes throughout. The available space herein contains (2) extra large executive offices, an additional (7) private windowed offices, (1) large glass enclosed conference and a clean modern pantry. With its contemporary design, simple decor and professional guise, this Grand Central area office space is the right choice for emerging companies seeking a lucrative Manhattan address at an affordable price. Additional conveniences of the center's location are the E, V and 6 subway lines located around the corner. The diverse client base occupying this building proerty expands from executive level recruiting consultants to alternative investment financial firms.

Commercial Sublet Space | 41st & Madison Avenue 4,000 SF. Negotiable

This handsomely built out suite has 5 private offices, bullpen area for 18 workstations, a large conference room that comfortably holds 10 to 14 & a pantry with a sink and cabinets. The office is fully built with windowed offices, conference room, kitchen/pantry, and an IT closet. The building proerty itself features 24/7 access, marble lobby, sophisticated security, high-speed express elevators, and much more. In all a fantastic move-in-ready office space in a prestigious location benefitting from a Class A building with various amenities and world class infrastructure.

Third Avenue Office Rental | Between 43rd & 44th Streets 4,485 SF. /

$62 SF.



Amazing Corporate office space located steps from Grand Central Terminal, with River Views. Efficient combination of offices and open area, which would be an ideal fit for any financial or insurance companies. This lovely second generation pre-built suite stands on 3rd Avenue and is now available for immediate occupancy. The space features 3 private offices, a conference room that can seat a team of 12, a reception area with room for guest seating, a wet pantry w/ closet and an open work that can contain anywhere from 15 to 20 staff members. This lovely second generation pre-built suite stands on 3rd Avenue and is now available for immediate occupancy...

Midtown (East) Office for Sublease | Madison Avenue 5055 SF. / $55 SF.

Office SUBLET - The following class A office sublet stands in a high rise office building which is located close to Grand Central station. This sublet space is like new and move-in ready for immediate occupancy with furniture and phones making for a true turn-key solution in midtown. The lease term is shorter than the average allowing you to enjoy the comforts of a premiere office space but without the long term commitment. This space is great for growing law firms or hedge funds requiring a shorter term lease!

Grand Central Office for Lease | 46th Street 5,200 SF. /

$52 SF.



RAW SPACE - We have a great space available for your growing business strategically situated across from Grand Central! This corner unit is conveniently located directly off the elevators. It has amazing light and views because it is on a high floor. There is 5200 sq ft of available office space in a raw state - the landlord will completely build out the space to suit new tenants needs. This commercial space used to consist of a expansive open work area along with the additional of 8 partner offices along the perimeter of the space, while the remainder of the space used to host a staff of 20, in addition the office was serviced by a spacious glass clad conference room, pantry with seating area, an IT closet, and two restrooms.
Midtown (East) Office for Sublease | 54th Street

$49 / 5500, 3000, 2500 SF.



This class A Park Avenue office provides luxury and comfort for both you and your staff. The office is wired for both voice and data. The space has been outfitted with brand new carpets and a private bathroom with Kohler faucets. This office enjoys easy access to New York public transportation and large open windows provide natural light. The office is equipped with a spacious conference room with newly installed carpet floors and modern light fixtures..
Grand Central Office Space for Lease | 46th Street 5,520 SF. /

Call for Details



We have a great space available for your growing business strategically situated across from Grand Central! This corner unit is conveniently located directly off the elevators. It has amazing light and views because it is on a high floor. There is 5200 sq ft of available office space in a raw state - the landlord will completely build out the space to suit new tenants needs. This commercial space used to consist of a expansive open work area along with the additional of 8 partner offices along the perimeter of the space, while the remainder of the space used to host a staff of 20, in addition the office was serviced by a spacious glass clad conference room, pantry with seating area, an IT closet, and two restrooms. (Before & After Photos Incluse - See Space Details)

Madison Avenue Sublet Office for Rent (between 42nd & 43rd) 5,445 SF.

Negotiable



Back on the market! The triple A building in which this corner office unit stands has just gone through complete renovations. The office itself bears new windows from the new construction. This commercial space offers 9 windowed private offices, a bullpen, conference room, pantry, and enjoys good exposure to natural light due to its postion on the 20th floor. Furthermore this space has been fully wired for voice and data. This midtown property is near all major transit including metro north.
Fifth Avenue Sublet Office for Rent (between 41st & 42nd) 5,838 SF.

Negotiable



Full floor identity with spectacular views overlooking the New York Public Library. This recently built above standard office installation comes with 6-7 offices (with glass), 1-2 conference rooms. 7 workstations, reception area, pantry, private bathrooms. Furthermore the office contains a large separate column free area to accommodate either an additional 10 workstations, training room or approximately 20 trading positions. This space comes fully furnished, with existing phone system and wired with CAT 6 cabling all serviced by supplemental A/C. Additonally the property is a quality owner-occupied building while the space enjoys a strong sublessor.

Fifth Avenue Office for Lease (Northeast Corner of 40th) 6,933 SF. / $55 SF.

This listing is for an above standard office with high-end finishes and views of Bryant Park (21st Floor). The column-free office is simply configured with an open area (25+ people), reception and pantry serviced by tenant controlled AC. The lease term on this spaces extends to 2018 giving you a mid range option in your search for viable commercial real estate. Additionally this office comes pre-wired for Voice & Data and offers optional Furniture and Phones. Otherwise, the 28 story building property itself is strategically located to all access routes between Grand Central, and the New York Public Library's "Main Branch" (Stephen A. Schwarzman Building).

Plaza District Office for Lease (between Park & Lexington) 6,970 SF. /

$67 SF.



Gorgeous unit facing Park Ave with sweeping views of Park Ave and tons of natural light. You get a direct door entrance directly off the elevators. This new above standard installation features glass front perimeter offices, the whole of the space comes fully furnished and wired, plug and play! Specifically the space consists of; 5 windowed full glass offices, 1 large full glass conference room, an open work area that can accommodate about 20 workstations, pantry, mailroom, and IT room. As for the wiring; new data cabling has been set in place with 2 ports at each station. The space enjoys a beautiful reception area and offers you an excellent move-in condition opportunity in a high end premier class A property with a Park Ave address in heart of Grand Central. The building features full concierge service 24 hour/7 day access and security CCTV digital video recorded system, all of which is conveniently located near major public transportation.


RAW Fifth Avenue Office for Lease (on 47th Street) 7,803 SF. / $?? SF.

The following vacant 20th floor commercial space requires renovation - the landlord is offering a lease term that extends from 5 to 10 years - ownership will provide a build to suit. This space before demo contained the following features; 12 private offices, 2 conference rooms, a pantry, reception area, and an open work area that occupied the core of the office. NOTE: Landlord Buildout / will provide tenant with "Cash TI" (tenant improvement cash contribution) - customize the number and size of the offices you require!

Grand Central Office Rental (Half Floor Presence) 8,500 SF. /

$71 SF.



This nicely built unit offers great views and good light all bound within a high end installation, furnished and wired, plug and play, ready to go, 10 perimeter offices, 1 large conference room, an open area with room to fit bewteen 24 to 30 workstations, pantry, IT room, reception with guest seating. All of which is leased by a financially strong sublessor in a high end class a building. The commercial space herein is fully wired for voice and data communications, in addition the conference room comes fully-equipped with audio/visual capability (via an A/V Rack & Equipment within Hidden Nook).
Madison Avenue Office for Lease (Northwest Corner of 40th) 9,818 SF. /

$56 SF.



This listing is for a brand new full-floor office installation that includes; perimeter private offices and an open work area with the option for furniture and phones that can be made available upon your request. Additonally the space's layout offers conference rooms directly off of the reception area - a great perk for tenants who see many visitors but wish to keep their operations away from focus. Futhermore the space enjoys an elegant pantry and dedicated IDF room with UPS and supplemental HVAC. This office benefits from its high vantage on the 33rd floor thusly offering great sweeping views of the city. The building property itself has been completely renovated and enjoys a strong financial services roster.
45th Street Office for Lease (Between Lexington & 3rd Avenue) 10,845 SF. /

$50 SF.



There stands an available office on 45th street with has the potential for a long-term lease with the landlord. A fully built turn-key office with direct presence off the elevator which opens onto the space itself, additionally these offices can come furnished though all of which is wired and ready for voice & data. Overall this listing incorporates the following; 16 glass fronted private offices, 2 glass fronted conference rooms, an open work area, while a reception and pantry area top off the space. Furthermore the building property features; renovated lobby and passenger cabs, new common areas (corridors & bathrooms), new operable windows, tenant controll HVAC, messenger center, and a nationally known fitness club in the building...

Plaza District Office Rental (between Lexington & 3rd Avenue) 13,895 SF. Negotiable

The following space is a newly built contemporary office installation in excellent move-in condition. This commercial space features glass partitioned offices, floating and exposed ceilings and ductwork complimented by custom lighting throughout. This commercial unit stands on the 17th floor and benefits from 3 sides of natural light while overlooking views overlooking St Bart's Church and Park and Lexington Avenues. Moreover the space offers furniture and fixtures enabling this as a true turnkey opportunity. The office is serviced by a versatile HVAC system with overtime use! This listed space is offers a lease term of 7 years out to November 2024.

West 42nd Street Office for Lease (between Fifth & Sixth) 14,528 SF.

Negotiable



The following office offers an ample efficient business layout that includes 23 private offices (6 of which are partner offices), an additional 17 private offices/collaboration rooms, an area with 20 workstations, all of which is serviced by 2 conference rooms and a large staff pantry. Furthermore the office features a Server Room with supplemental AC. The historic building property stands close to the New York Public Library offering close proximity to all forms of public transportation. In addition this office also provides the future tenant with an emergcy generator!
East 45th Street Office for Lease (between Third & Lexington) 16,000 to 8,000 SF.

Negotiable



The following listing offers the tenant a full floor (11th floor) opportunity in the heart of Manhattan. This space comes pre-configured in a highly efficient layout that includes; an open plan with perimeter offices with Phones and Furniture avaible at request. This office property stands steps from the Grand Central Terminal Building and features a New Lobby & Public Plaza and has been recentl awarded LEED Silver Certification.



Note:

This office can be divided into individual suites and comes as-is move-in ready condition.
Neigborhood Details
Noteworthy Properties: 2 Grand Central Tower, 11 East 44th, 28 West 44th (National Assoc. Building), 52 Vanderbilt Avenue, 60 East 42nd Street (One Grand Central Place), 90 Park Avenue, 99 Park Avenue, 100 Park Avenue, 101 Park Ave, 125 Park Avenue, 2456 Park Avenue, 250 Park Avenue, 270 Park Ave (JP Morgan Chase Building), 275 Madison Avenue, 330 Madison Ave, the Chanin Building (122 E 42nd), 375 Park Avenue (The Seagram Building), The Chrysler Building (405 Lexington Avenue), Columbia Carbon Building (317 - 325 Madison), the former Daily News Building, Graybar Building (420 Lexington), the Helmsley Building (230 Park), Metlife Building (200 Park), 500 Fifth Avenue (the Salmon Building), 551 Fifth Avenue (the French Building), 771 Third Avenue, and One Grand Central Place.
Organizations / Corporations in the Area: Bank Leumi USA, Berkshire Capital, the Croatian Consulate, Guggenheim Partners, New York Life Insurance, NGN Capital, George Jensen Inc; Crain's New York Business, Parade Publications, Ricoh Corporation, Omnicom, and Chicago Title Insurance Company.
Nearby Landmarks: The New York Public Library, Bryant Park, United Nations Headquarters, Yale Club of New York City, Chrysler Building, Morgan Library & Museum, MoMA, Lever House and Seagram Building, Greenacre Park
Hotels in the Area: Club Quarters Hotel, Grand Hyatt New York, The Westin York rand Central, Fitzpatrick Grand Central, Hotel Boutique, The Renwich Hotel New York City, The Tuscany, The Library Hotel, Dylan Hotel, HGS East 30th Street