Plaza District Office Sublet Rental
3368 SF. Plaza District Office Sublease Between 55th & 56th Street, Manhattan NYC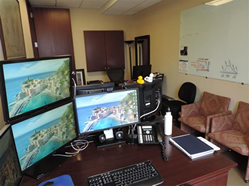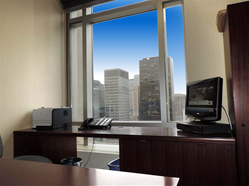 Along Park Avenue in the Plaza District near 56th Street stands a pristine oasis to business in the form of a 3368 SF. office ready for occupancy. This top quality commercial unit overlooks the Midtown Manhattan neighborhood corridor helping to cement and inspire both your staff and clients from a 31st floor vantage view.

An amazing corporate office space located minutes from Grand Central Terminal within a top luxury Class A commercial building that features a fully renovated lobby, updated elevator systems, and 24/7 concierge. The space itself contains six (6) glass and wood fronted windowed private offices, one (1) large glass fronted conference room with windows overlooking the East River below, an I.T. Closet with 20 Ports and their respective drops at each desk/workstation throughout. The unit is further complemented by the addition of a modern reception desk and a top-of-the-line pantry; all of which help to complete the space. This spectacular unit has high finished ceilings and large expansive windows on 3 sides (corner unit – see photos), which allows the space to be flooded with an abundance of natural light. In total this inspiring commercial space would be great for any type of hedge funds, private equity firms, sovereign wealth funds, and other smaller financial firms looking for an exciting prebuilt office space.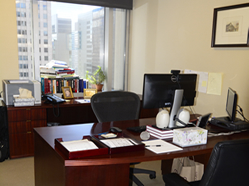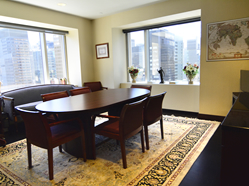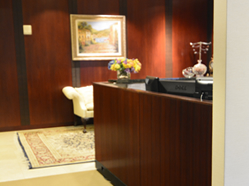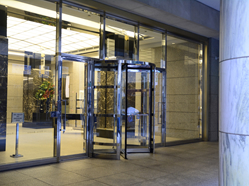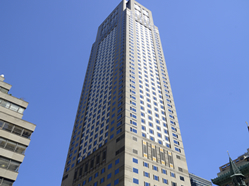 Tenants and guests of this Fifth Avenue High-rise Tower are met by a superb marble and granite entrance upon arriving through the entrance. This 52-story building, designed by Kohn Pedersen Fox Associates, boasts unparalleled views of both Central Park and Midtown Manhattan and offers first class conveniences to its impressive tenant roster. The office tower is within walking distance to numerous luxury hotels, museums and retail stores!
Available to view at your earliest convenience. Access by Appointment Only.
Available Sizes: 3368 (7 Year Term - Sublease 2022)

Key Features:
- High-end existing installation (Glass & Wood Fronts)
- Extremely efficient layout comprising of
- 6 Private Windowed Offices + a Conference Room
- Reception Entry with room for Guest Seating
- Phones & Furniture Optional, "Plug & Play"
- Copier Area
- Pantry with Sink (Wet Column Access)
- Great Address on Park Avenue - Plaza District
- Prestigious Tenant Roster
- A Citi Bike station provides convenient & environmentally-friendly access
- Close proximity to Central Park, retail, hotels, private clubs & restaurants as well as transportation
- Surrounded by major bus and subway lines including: E, F, M, N, Q, and R

Call or Click Today - Tour Tomorrow ™


Option #1
Broker Assisted
Office Space Search

Space Location (Fifth Ave between 55th & 56th Streets)
Neighoborhood Information
Today the average asking rents topped $86 per square foot, while those for Class A spaces are at $94 per square foot.
The Plaza District of Manhattan NYC stands as the historic center of business - as it has played host to a number of office towers throughout its history.
Manhattan's Plaza district, the area near Central Park that commands the nation's highest office rents, has a glut of space as financial firms cut back and tenants seek trendier neighborhoods south of Midtown. The Plaza district -- the area between Sixth Avenue and the East River from 47th to 65th streets, anchored by the landmark Plaza Hotel at Fifth Avenue and Central Park South -- is home to some of the nation's most expensive and prestigious office towers, including the General Motors Building and 9 W. 57th St.
Businesses who call this Neighborhood Home Folger Hill Assset Management
Corsair Capital
400 Capital; Canada Pension Plan Inv. Board
Northern Trust
Temasek
Och-Ziff Capital MGMT
Omega Advisors
QFR
Long Pond Capital, Meru Capital; Wunderlich Securities
Contour
Prosiris Capital Management
Ruane, Cunniff & Goldfarb
Banco Itaú

Nearby
St. Patrick's Cathedral
The Peninsula New York
The St. Regis New York
The Four Seasons Hotel New York
The New York Palace Hotel

Noteable Buildings in the Area
Seagram Building, 9 West 57th Street
The General Motors Building
510 Madison
9 West 57th Street
660 Madison

Transit
With easy access to almost every subway line and Grand Central Station just a short walk – or one subway stop – away – it's easy to see why the Plaza District is consistently Manhattan's most expensive – and exclusive – commercial submarket.
MTA New York City subway lines B, D, F, M, 1, N, Q, R
Easy Penn Station access using the frequent F train from Herald Square's 34th Street station
MTA Bus stops for M1, M2, M3, M4, M5, M7 and M50