Terrace
When space is limited and compact, people are looking to get the most out of every inch of a space. This need is benefitting spaces with outdoor areas available especially terraces. When you hear the word 'terrace' it gives the impression of luxuriating outdoors, enjoying, meals, and hosting friends.
A terrace offers a different experience than a garden apartment or a balcony. Unlike a garden apartment that offers a patio on the ground floor or a balcony, that is a small overhang and not very large, a terrace stands out beyond the rest. The outdoor terrace allows New Yorkers to step outside their high-rise confinements.
As a rule, a terrace is an outdoor space directly off the space positioned on the building's setbacks. The terrace does not extend beyond the building's façade like a balcony that overhangs. A terrace is an open space different from a loggia that is a covered outdoor area.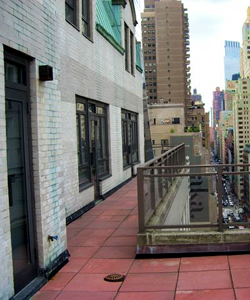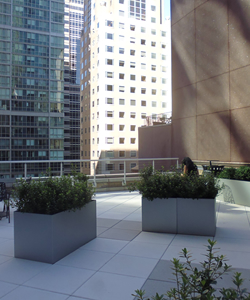 Costs and Conditional Usage
The 'saying you get what you pay' for is certainly true when searching for private terrace. Terraces are not free, but according to many real estate experts, a private terrace is generally valued at half the square foot price of the indoor space, of course depending on the property and market.
Summary
A terrace, also a balcony, characterize a space interested in joining the indoor and outdoor spaces. Terrace, in Latin meaning 'earth', relating to the terrace built on raised structures. Essentially, a terrace is built on a raised area likely atop of a building or property. A terrace is an open outdoor area, although usually found on the top floor may also be found on lower floors placed on the setbacks.
Today, modern terraces are used in various ways. Open gardens are becoming more popular among many people in urban areas. A beautiful green space in the middle of a bustling New York City is truly a treasure. Unlike the balcony, a terrace is able to support a pool or Jacuzzi.
Direct access to a terrace is not available in all buildings. Several properties enclose the top floors to sell at a higher rate due to the appeal a terrace offers. Other properties only allow access to the terrace through a fire escape or a separate staircase. An authorized floor plan is required to build a terrace.
If your interested in leasing or pruchasing an office in Manhattan that features a Terrace, just give us a call - we have data on all the building proerties throughout city that contain the outdoor space your looking for!


Option #1
Broker Assisted
Office Space Search
Office Space Amenities / Features:
ADA Access
Attended Lobby
Balcony
Boutique Buildings
Breakout Rooms
Brick Walls
Bullpen
Carpeting
Close to all Transportation
Coffee Lounge
Concierge Service
Conference Room
Copy Room
Creative Space
Direct Elevator Access onto the Floor
Drop Ceilings
Efficient Layout
Exposed Beamed Ceilings
Exposed Ducts
Flexible Leasing Terms
Freight Elevators
Full Floor Office
Furniture & Phones
Glass Accents
Glass Fronts
Guest Seating Area
High Quality Finishes
High Speed Elevators
I.T. Closet
I.T. Room
Loft Layout
Mail Room
Move-in Condition
Onsite Management
Open Layout
Operable Windows
Oversized Windows
Pantry
Penthouse Office
Polished Hardwood Floors
Pre-wired for Voice & Data
Private Offices
Private Restrooms
Raw Space
Reception
Remodeled
Renovated
Roof Deck
Secure Keypad Entry
Skylight
Split AC
Stainless Steel Appliances
Storage Room
Sunlit Exposure
Supplemental AC
Tenant Controlled HVAC
Terrace
Turn-Key
Water Column Access
Whitebox
Services We Provide:
Architectural Coordination & Design
Architectural Requirments
Construction Supervision
Drafting Offers & Counter Proposals
Expansion of Space
Floor Layouts & Design
Landlord Concessions
Lease Exopirations
Lease Extentions
Lease Renewals
Leasing Space
Legal Consultation
Listing your Property for Sale
Listing your Space for Lease
Moving Details
Negoitate Lease Terms; escalations, rental rates, and utilities
Negoitate Rentals Rates / Increases
Office Space Touring
Real Estate Investment Advisement
Real Estate Tours
Satellite Offices
Tax Analysis


RELATED LINKS

- Buildings
- Office Buildings
- Hotels
- Skyscrapers